Current hall project
Although it is already early days in the project, the village is already benefiting from a central building to focus community activities like the festive event, the stovie evening and gardening activities.  We are now working together to renovate the hall so that everyone can access groups and have the chance to contribute to their community.
The desired outcomes from the project are to:
support a sustainable community space to provide recreational activities for all residents – children, families and elderly members of the community;
provide a cultural and historical venue where residents can share their historical and social knowledge of Fittie with each other as well as external groups and visitors to the city;
improve the quality of life of all residents – including the most isolated and vulnerable – by engaging in shared activities, developing relationships and valuing the experiences and skills of residents.
Current activities and suggestions for future hall uses by the community and potential partners during ongoing consultation include;
Social activities, such as coffee mornings, lunch clubs, playgroups, storytelling sessions, cultural clubs and seasonal events.
Recreational activities, such as sports groups (keep-fit, yoga, pilates, table tennis, badminton, chair-based exercises), raised bed gardening for light exercise, practise space for musicians.
Outreach and communication activities, such as NHS Healthpoint talks on improving health, information about health conditions and procedures, healthy travel and support groups and opportunities for over 65s from Aberdeen City Council Wellbeing team.
History of the community hall project
The community hall project started when the Fittie community identified the need for a 'hub' that will allow residents to gather for a diverse range of activities, including social, recreational, educational and exhibition purposes. Fittie has an active history of community events and villagers are keen to join in pre-organised events and activities. There was an appetite to establish an exhibition space within the hub, designed to promote the history and culture of the village to external bodies, including visiting schools and tourists. A potential space for development into a 'community hub' was identified as  The Gospel Hall. Located within the village, in New Pier Road, this building was owned by Aberdeen City Council and had been empty since April 2014.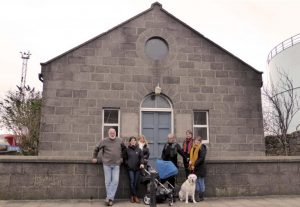 Working within the spirit of The Community Empowerment (Scotland) Act, 2015, a steering group, named 'The Fittie Community Development Trust' was formed by a number of Fittie residents. Representing around 50 members who were interested in the project, this group approached Aberdeen City Council to express interest in acquiring the disused Gospel Hall for the use of the community.