Community Garden around the 'Gospel Hall'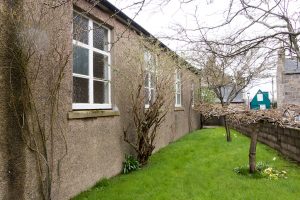 An integral part of the Community Hall project is the establishment of a garden that can provide additional outdoor space for the diverse activities and events taking place in the hall. At the same time, we would like this greenspace to grow into a sustainable rich haven for wildlife, which can offer a pleasant meeting place for a simple blether with the neighbours, too!
The hall also provides a better venue for the gardening group's meetings and allow us to add to our activities. Future gardening group plans are to hold evening talks, workshops, plant sales, gardening activities for children, offer raised beds to those with mobility issues and simply have fun weeding together.
The community garden's basic layout is constrained by the hall's shape and access points, and to the perimeter outline. A 'master plan' for the hard landscaping and actual planting up has been developing since 2016 taking into account many factors such as weather, soil, microclimates, seasons, preferred uses, etc.
After much consultation, a range of suggestions for the community garden have been put forward by villagers, such as a patio area with plenty seating, good mobility access, various benches, insect-friendly planting, fruit bushes, herbs, veg, raised beds for gardeners with mobility issues, planters, hanging baskets, trellises, mosaics in wall recesses, art from recycled items, sun dial, bird feeding stations, compost bin, rain water tub, sun dial, etc., etc. The gardening group have an evolving 'draft plan' which to reflect these ideas.
We want your ideas!
This is an 'organic' project so please send us a wish-list of things you would like to see or do in this garden, suggestions of your favourite plants, recommendations of weather-hardy wildflowers – any ideas are welcome. If you would like to draft up a more detailed design with notes for the whole garden, we would love to see them.
Please post all back to our email address fittietrust@gmail.com or drop them off at 1 South Square, Footdee.