Congratulations to Kristofer, aged 4, whose name "Seashell" was chosen for the play boat!
Fittie Community Development Trust hosted its first official event on Saturday 17th September. The Family Play Day event was designed to celebrate the ongoing development of Fittie Play Park and the recent installation of our impressive new play boat, funded by Aberdeen City Council. The Play Day activities were resourced and organised by The Play Forum and one of the key activities of the day's events was a 'Boat Naming' competition for children under twelve years of age.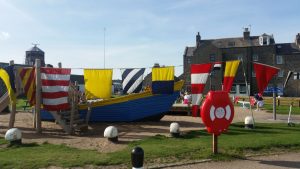 Fittie Play park was looking its very best on the day; the area was surrounded with flags and bunting lent to us by the local Sea Cadets and the sun shone down on children, parents and volunteers as they enjoyed using the park for what it was designed for-supporting children's play.
The event was well attended and enjoyed by both local families and visitors to the area. Around sixty possible names for our boat were submitted to the Play Forum and these were given to Castlehill and Pittodrie Community Council to select the winner. On a vote, the winning name was declared as "Seashell', submitted by Kristofer, aged 4. On receiving a phone call with the news, both Kristofer and his mother were delighted, saying that they'd never won anything before!
Kristofer was sent a book token to the value of twenty pounds from Waterstone's, donated by Castehill and Pittodrie Community Council.
Thank you to all who gave their time, energy and goodwill to this successful and enjoyable community event.
read more on the main page here